Quotes
Melbourne has known it for years but, with the release of this exceptional debut CD, so will Australia - Nichaud Fitzgibbon is a special singer....a first rate singer in any style or tempo. But it's as a balladeer that she excels.Kevin Jones - The Australian Nov 2001. Full review
Nichaud Fitzgibbon sings jazz - she sings it with swinging ease and an innate feel for the heart and soul of a tune.Kenny Weir - Sunday Herald Sun, December 2001. Full review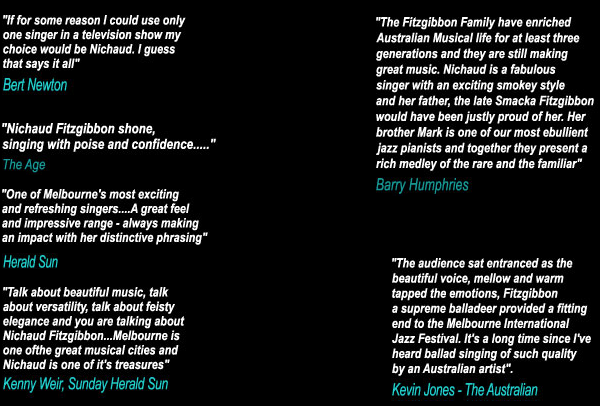 Melbourne International Jazz Festival 2011- A Tribute to Australian Swing with James Morrison -
"Nichaud Fitzgibbon's interpretations of some fine Jonny Mercer songs were perfectly placed. If You Were Mine and This Time The Dreams On Me ( music by Harold Arlen ) showcased a talent for phrasing that was true to her pedigree. A delight from beginning to end, this was indeed a tribute to Australian swing, past and present. Take note, emerging stars " ****
Bill Farr (The Age) June 15, 2011.

" Fitzgibbon was the consumate entertainer...a sassy, saucy woman with vocals to match. Her voice was engaging and seductive... a woman who could immediately make you feel comfortable. Her personality flowed out emanating a relaxed sense of confidence that would easily rub off on her audience...the sensuality and cheeky charm was turned on full. We were left to reflect on the value of experience in a singer and the consummate ease with which she could captivate an audience and enliven a venue. It has been an evening of fine music to end another fine festival".... Roger Mitchell (Herald/Sun)
Stonnington Jazz Festival 2009.

" Nichaud Fitzgibbon is a member of Australia's Jazz Royal family ".... Ruby Carter Jazz Matriarch 2008


" Talented Melbourne vocalist Nichaud Fitzgibbon, blends something old and something new into the same mix. Transmogrified and freshened up, her repertoire is painted in colours that may have seemed inconceivable but work perfectly well. Her voice floats across clever arrangements transforming a repertoire that includes Richard Rodgers, Cole Porter and Hoagy Carmichael making it all sound fresh and new "..... Leon Gettler (The Age Green Guide) Melbourne 2006

" Deep in The Night ... an impressive set of quality songs delivered with unerring judgment and panache by Fitzgibbon "..... Adrian Jackson (The Bulletin) Melbourne April 2006


" She shows herself to have interest in both the improvisational potential of the music and the dramatic possibilites of the lyrics. Her voice is cool, while her style betrays the sweet hubris of a singer very comfortable in the dangerous knowledge that the point of no return is at the very beginning of each vocal journey. No one has sung Rodgers and Hart's "Where or When" to better effect. I have to emphatically agree with Mark Murphy - She's a natural "
...Alan Bargebuhr (Music critic, Cadence Magazine USA) September 2006

"One could not help but be drawn by the performance; not only could you hear the voice but you could see the emotion. Nichaud lived each of the songs, she was cheeky, sexy and seductive and always confidently in control of her delivery. The night was a perfect marriage of two instruments - voice and piano. It was a pleasure to watch the magic of Mark's fingers on the keyboard and delight in the playful interaction of music and voice "
...Jan Chandler ( Music Theatre Review Melbournestage.com.au )
Live at The Butterfly Cabaret Club April 2006

" Fitzgibbon's voice is maturing; now more generously rounded and more nuanced, she interacts exuberantly and responsively. Mark Murphy offered to produce her second cd - a massive compliment "... John Shand ( Jazz reviewer ABC Limelight Magazine ) March 2006

" Regarded as Australia's finest jazz stylist Nichaud Fitzgibbon has been gracing us with her distinctive smouldering ways for years, she entrances audiences with her beautiful smoky vocal quality and her natural sense of swing. She can rustle a boisterous Latin feel at whim and then melt you with her restraint. Nichaud has made a trademark with her chameleon ways."
...Xenia Hanusiak (The Herald Sun) Melbourne 2004


" She's a natural and she's gorgeous "..... Mark Murphy (World renowned American jazz vocalist) 2004

" The most warmly sensuous voice in Jazz... Fitzgibbon drew the audience in with her natural exuberance, lyrical sincerity and wonderful supple phrasing"
... Jessica Nicholas (The Age 2002)

" Nichaud is a revelation and she is very much in the class of Diana Krall and deserves to be heard world wide "... Roy Oakshott ( BBC Radio London UK ) 2001

" She is a fabulous singer with a smoky style "..... Barry Humphries (World famous Australian satirist) 2001


" She brings freshness and vitality to the standard repertoire thanks to her rich and alluring voice. She impresses as a mature stylist who knows exactly how she wants to interpret every song "
.....Adrian Jackson ( The Age ) Melbourne 2001


" She entrances audiences with a beautiful, warm and mellow vocal quality that taps every emotion "......Kevin Jones(The Australian) Melbourne 2001


" She's great, she just oozes sex appeal, one of the sexiest singers I have ever seen "
.... Dr. Karl S. Kruszelnicki. (Famous Australian Scientist) 2002

" Having Nichaud Fitzgibbon on backing vocals is like having James Hird ( Essendon star footballer) on the bench"... Paul Stewart (Herald /Sun)musician /journalist

" There are many young women, these days, who claim to be 'Jazz singers'. Often, however, their only justification for this name is the addition of mannerisms, which they fondly imagine to be Jazz. The truth is, however, those REAL Jazz singers do no more than sing the song so that it SWINGS...Billie and Ella being prime examples!

Easy though this sounds, relatively few singers can pull it off, for it demands innate musicality. Nichaud Fitzgibbon is one of this rare breed. In addition she possesses one of those wonderful breathy-edged voices with a rich, warm core, able to sing virtually anything and make it sound good. In this, one can make comparisons with Peggy Lee. Her wonderful lazy phrasing, on the other hand, no doubt comes from the early influence of Connee Boswell, but Nichaud is no copy of anybody. She has her own voice and is one of the leading Jazz singers of today...not only in her native Australia...but anywhere in the world! The only problem for her fans is that she is so good to look at, that sometimes, one forgets to listen."
... Earl Okin ( British musician, comedian and music critic ) 2005.